Dear Members and Visitors,

I receive a note from one of our member that she has an old version of CityStory and is willing to provide a copy to anyone who wishes to downgrade his present version.

Please let me know so I will provide you a link to download this old version upon receiving from her.

CSSC - Is Here to Help!

Cheers!
Admin

Hello good day to you. i'm stuck. deleted new version. Can't install old version because its registered to another user. where are the instructions to install the old version to iPhone/iPad?
Please HELP!!!!



Posts

: 4


Join date

: 2011-03-06


Location

: Pennsylvania



That's the problem I had to.

Has anyone been able to downgrade with an old version from someone else's phone/computer?



Posts

: 23


Join date

: 2011-03-05


Age

: 50


Location

: Perth, Western Australia



Dear Members/Visitors,

Use the below at your Own Risk!

Cheers!
Admin

--------------------------------------------------------------------------------
Hi,

found the following on the net

--------------------------------------------------------------------------------
1. Get the .ipa file from someone who has paid for it, and open it in WinRAR.

2. Extract all the files to a location where you can get to them all easily.

3. Open iTunesMetaData.plist in Notepad.

4. Look for his/her email address, Change it to the account you have your iTunes ID registered with.

5. For extra safety measures, change where it says "Price" from whatever it is to 000.

6. Save it, and use WinRAR to re-zip the file. Make sure you change the file type back to .ipa.

7. Import it into iTunes, double click it, and enter your password. Bingo, you can now register it on 5 more computers.

To repack

1. After you edit the .plist file and save it, you should have the Payload folder, iTunesArtwork, and the iTunesMetaData.plist file.

2. Select all three files, right click it, and click add to archive. Change the type to .zip, but under the file name, change the .zip extension to .ipa.

3. Right click and open with iTunes.

--------------------------------------------------------------------------------

in the attachment there is a City Story 1.0.4.ipa and the .plist file
you can try to change in the .plist file on line 6 were i write in "your@email.here" to your appleID (eMail)(i used bbedit on mac)
then open City Story 1.0.4.ipa in WinRAR(i used betterzip on mac) and replace the .plist file with the edited one.
save and import into iTunes / duplicate the original version if something goes wrong

I hope this works please let me know
no luck..

still doesn't work. has anyone else tried with success?



Posts

: 4


Join date

: 2011-03-06


Location

: Pennsylvania



I think ill stick with what i got cause that sounds way too technical for my pc knowledge lol hope you get it back goin soon nbr.. rem



Posts

: 19


Join date

: 2011-03-09


Age

: 56


Location

: MO



Hello Members/Visitors,
Our good and dedicated member "adrienland" requested to post the following in FRENCH:
Procédure pour réinstaller l'ancienne version de City 1.0.4 ( 34,9 M° )
Tout d'abord, il faut savoir que cette procédure est faisable que l'on soit sur iPhone ou iPad, et que pour les deux appareils, c'est la même procédure.
Ensuite, ce changement de version est possible que si vous êtes toujours en possession de la version 1.0.4 dans le dossier mobiles applications dans votre ordinateur, sinon, il faudra malheureusement rester avec la version 1.2.
1/ En premier, tout achat des nouveaux bâtiments fait avec la version 1.2, comme le Tex-Mex, le Museum et les nouveaux Offices doivent impérativement être mis dans l'inventaire. Pourquoi ? Parce qu'avec l'ancienne version ils sont invisibles, (natifs à la version 1.2 seulement) et que si vous les laisser, ils empêchent l'installation d'autres bâtiments sur leur emplacement, même s'ils sont invisibles. Ils ne sont pas perdus pour autant, mais restent invisible dans l'inventaire.
2/ Supprimer City Story 1.2 depuis la fenêtre des applications iTunes (comme sur les images) en faisant un clic droit, et supprimer, ce qui supprimera City de iTunes.
Lors du message de suppression, 2 choix :
- placer l'application dans la corbeille, ou
- conserver l'application dans le dossier iTunes.
Il est plus judicieux de la laisser momentanément dans le dossier iTunes et de la jeter à la fin de la procédure, par précaution.

Aucune crainte à avoir en supprimant City depuis iTunes et iPhone ou iPad, car on ne supprime que l'application, la ville est toujours elle conservée sur le serveur de Team Lava.
3/ Supprimer City sur l'iPhone ou iPad. Pour ceux qui ne savent pas supprimer une application, il faut appuyer sur n'importe quelles icônes pendant quelques secondes, et toutes les icônes ont la tremblotte avec une petite croix en haut à gauche. Cliquer sur la croix et un message de suppression apparaît, puis confirmer la suppression. Pour enlever la tremblotte, appuyer sur le bouton rond central.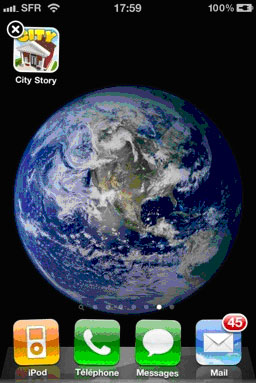 4/ Donc à ce stade, City 1.2 est supprimée de iTunes et de l'iPhone ou iPad. Éteindre l'iPhone ou l'iPad.
5/ Glisser City 1.0.4 dans la fenêtre des applications de iTunes.
6/ Rallumer l'iPhone ou l'iPad et le brancher à l'ordinateur pour le reconnecter à iTunes.
7/ Vérifier que City 1.0.4 est bien cochée. ( comme sur l'image )
De toute façon, il ne peut y avoir que cette version 1.0.4 puisque l'autre se trouve soit dans la corbeille, soit dans le dossier mobiles applications, mais inactive, puisque supprimer d'iTunes précédemment.

8/ Synchroniser l'iPhone ou iPad, et automatiquement la version 1.0.4 mise à l'instant dans iTunes se retrouvera sur l'iPhone ou l'iPad. Et vous retrouver votre City et votre ancienne version.
Petit truc à savoir : Si vous n'avez jamais synchronisé votre iPhone ou iPad à votre ordinateur, vous avez sans doute la version 1.0.4 dans votre dossier mobiles applications, et de ce fait, l'étape n°5 n'est pas à faire. Passer de la 4 à la 6.
J'ai fait cette procédure sur un iPhone et sur un iPad et je peux vous assurer qu'elle fonctionne, et que je suis bien contente d'être revenue à l'ancienne version, la 1.2 étant archi nulle :-(
Ce tutoriel a été mis en place par Whales City et Adrienland.
Last edited by Admin on Fri Apr 15, 2011 11:58 am; edited 3 times in total
is there anyone kind enough to translate that?
I do not understand a word of this. It would be helpful to the majority of English Speakers if this could be translated into English otherwise it is absolutely pointless having it posted on this forum unless you happen to speak French which I am guessing the most of us that are members of this forum don't speak French !!!!



Posts

: 15


Join date

: 2011-03-11



Hello Members/Visitors,
Our good and dedicated member "adrienland" after his translation from French to English, requested to post the following:
Tutorial to get back from the release 1.2 of city story to the older release one 1.04 (34.9 Mo)
First, you have to know that this procedure is available either on Iphone or on Ipad, and for the both devices it's the same one.
Then , this turn back is only possible if you still have a copy of the 1.04 version somewhere on your computer like in the mobiles app files per example, otherwise you will unfortunately have to stay with the 1.2 version.
1) First all the bought done within the new version like the Tex mex restaurant, the museum and new offices have to be imperatively put into the inventory. Why? Because they are invisible with the older release, (they are native of the 1.2 version only) and if you let these buildings in your city without retrieving them, then they would forbid constructions of new buildings on their locations even if they are not visible. For all that they are not lost, but they would stand invisible in the inventory.
2) Delete City Story 1.2.
First on your computer, remember that you've got to have a copy of the former version somewhere.
From the windows I tunes Apps (like on the picture) with a right click and then delete, this would retrieve City Story from I tunes.
When the warning or confirmation message there are 2 choices :
- put the app in the dust bin or,
- Keep the app in the Itunes Files.
Il is wiser to let it temporarily in the ITunes Files and throw it away and the end of the procedure, as a precaution.

There is no fear to have within deleting City Story from Itunes, Iphone or Ipad, cause only the app is deleted, the datas and the city are still on the Lava team server.
3) Delete City Story from the Iphone or form the Ipad. For those who do not know how to delete an App from their device you have to press on the icons for few seconds, then all the icons are shaking with a little cross on the up left corner of the icons. Click on the cross a validation message appears then, confirm the suppression. How to remove the shaking icons : just click on the central round button.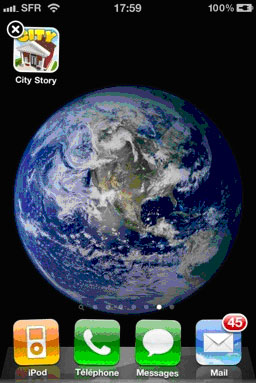 4) Then at this stage city story Version 1.2 has been removed and deleted from I tunes and from your Iphone or Ipad.. Switch Off your Iphone and Ipad (it's an obligation to do so)
5) On your computer while your device is off, Drop your copy of the old version of city story into the windows of the Itunes Apps
6) Switch on your device (Iphone or Ipad) and connect it to the computer so that it would reconnect itself with ITunes
7) Control that City story is marked (like on the picture)
In any case, there could be only this version 1.04 because the other is either in the dust bin, either in the mobile apps files but inactive since it's previous delete.


Synchronize you Iphone or Ipad, and the 1.04 version put in Itunes would automatically be back on your device. Like an enchantment. Then you will be able to find your city and your old version.
Little trick : if you never synchronized your device with your computer, you should probably have the old version in your mobiles app files of your computer, then step 5 is unnecessary. Go directly from step 4 to step 6.
I've done and tried this process either on Iphone and on Ipad, and i can assure you that it works. I'm very glad to be back on the older release, the new one being a very bad one (to stand polite otherwise would use term s...t.
This tutorial has been provided by Whales City and Adrienland
can you please send me a copy of the 1.04 files? I can make it work..



Posts

: 1


Join date

: 2011-04-18




---
Permissions in this forum:
You
cannot
reply to topics in this forum